The BC Bestseller List is compiled using sales data from over 80 independent bookstores in BC, which is provided to the ABPBC by TBM BookManager. The list represents sales of BC published books released within the calendar year.
No. 1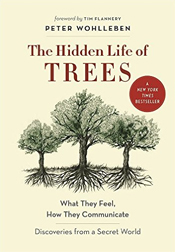 The Hidden Life of Trees: What They Feel, How They Communicate—Discoveries from A Secret World
by Peter Wohlleben
Greystone Books | 9781771642484 | Order Online
In this international bestseller, forester and author Peter Wohlleben draws on groundbreaking scientific discoveries to describe how trees are like human families; tree parents live together with their children, communicate with them, support them as they grow, share nutrients with those who are sick or struggling, and even warn each other of impending dangers. With their newfound understanding of the delightfully complex life of trees, readers will never be able to look at a walk in the woods the same way again.
BC Bestseller for 37 consecutive weeks.
No. 2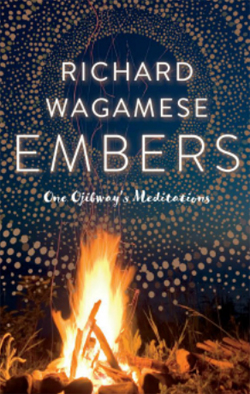 Embers: One Ojibway's Meditations
by Richard Wagamese
Douglas & McIntyre | 9781771621335
In this carefully curated selection of everyday reflections, Richard Wagamese finds lessons in both the mundane and sublime as he muses on the universe, drawing inspiration from working in the bush–sawing and cutting and stacking wood for winter as well as the smudge ceremony to bring him closer to the Creator. Embers is perhaps Richard Wagamese's most personal volume to date. Honest, evocative and articulate, he explores the various manifestations of grief, joy, recovery, beauty, gratitude, physicality and spirituality–concepts many find hard to express. But for Wagamese, spirituality is multifaceted. Within these pages, readers will find hard-won and concrete wisdom on how to feel the joy in the everyday things. Wagamese does not seek to be a teacher or guru, but these observations made along his own journey to become, as he says, "a spiritual bad-ass," make inspiring reading.
BC Bestseller for 31 consecutive weeks.
No. 3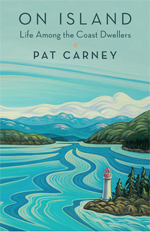 On Island: Life Among the Coast Dwellers
by Pat Carney
TouchWood Editions | 9781771512107 | Order Online
In this story collection, Pat Carney follows the rhythms of day-to-day life in coastal BC. Featuring a revolving cast of characters—the newly retired couple, the church warden, the musician, the small-town girl with big city dreams—Carney's keen observations of the personalities and dramas of coastal life are instantly recognizable to readers who are familiar with life in a small community. With her narrative of dock fights, pet shows, family feuds, logging camps and the ever-present tension between islanders and property-owning "off-islanders," Carney's witty and perceptive voice describes how the islanders weather the storms of coastal life.
BC Bestseller for 11 consecutive weeks.
No. 4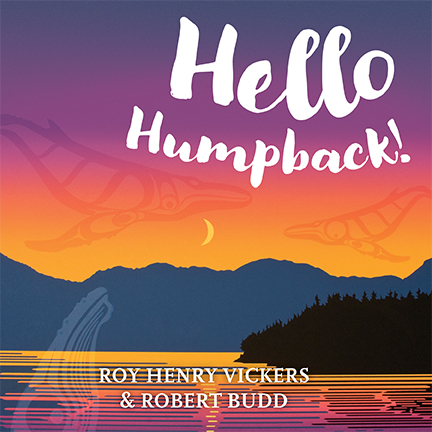 Hello Humpback!
by Roy Henry Vickers & Robert Budd, illustrated by Roy Henry Vickers
Harbour Publishing | 9781550177992 | Order Online
With bright and bold illustrations of the wild and magical West Coast by celebrated artist Roy Henry Vickers, this sturdy board book will delight babies and toddlers as they begin to experience and recognize the sights and sounds of the natural world. Hello Humpback!, a "first words" book, introduces iconic West Coast animals, from hungry sea otters to hopping orcas, and is sure to become an instant classic.
BC Bestseller for 16 consecutive weeks.
No. 5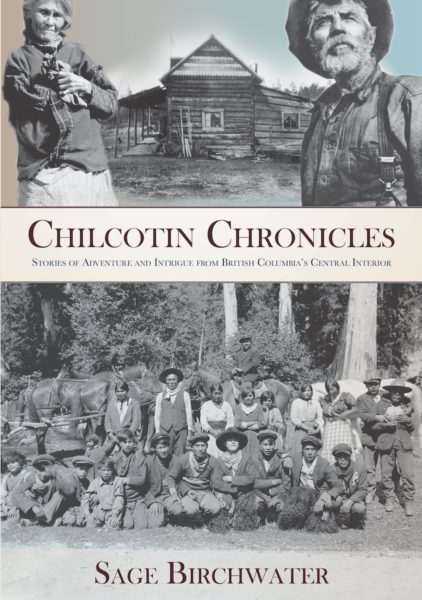 Chilcotin Chronicles: Stories of Adventure and Intrigue from British Columbia's Central Interior
by Sage Birchwater
Caitlin Press | 9781987915334 | Order Online
Set in the wild and untamed country of central British Columbia's Chilcotin Plateau, Chilcotin Chronicles is about men and women caught in its interface of cultures and changing landscape. Indigenous inhabitants and white newcomers brought together by the fur brigades, then later by the gold rush, forged a path together that was uncharted and unpredictable. Birchwater discovers that their stories, seemingly disconnected, are intrinsically linked together to create a human ecosystem with very deep roots. The lives of these early inhabitants give substance to the landscape and meaning to the people who live there today.
BC Bestseller for 8 consecutive weeks.
No. 6
Death in the Darkening Mist
by Iona Whishaw
TouchWood Editions | 9781771511711 | Order Online
The second instalment in the Lane Winslow mystery series; for fans of the Maisie Dobbs and Bess Crawford series. On a snowy day in December 1946, Lane Winslow—a former British intelligence agent who's escaped to the rural Canadian community of King's Cove in pursuit of a tranquil life—is introduced to the local hot springs. While there, she overhears nearby patrons speaking Russian. When one of those patrons is found dead in the change room, Lane's linguistic and intelligence experience is of immeasurable value to the local police force in solving the murder.
BC Bestseller for 1 consecutive week.
No. 7
Dirty Windshields: The Best and the Worst of the Smugglers Tour Diaries
by Grant Lawrence
Douglas & McIntyre | 9781771621489 | Order Online
Dirty Windshields is the long-awaited memoir from CBC host and award-winning author Grant Lawrence, baring all the salacious and hilarious details from his touring days as the lead singer of Vancouver-based rock and roll band The Smugglers. Told with Grant's signature self-deprecating wit, the anecdotes develop into a compelling story of the growth of an independent, do-it-yourself touring band, a community, and a musical movement.
BC Bestseller for 4 consecutive weeks.
No. 8
A Quiet Roar: Living with Multiple Sclerosis
by Heidi Redl
Caitlin Press | 9781987915372 | Order Online
In A Quiet Roar, Redl shares the struggles and triumphs in her uphill battle with multiple sclerosis. To survive, Redl must first learn to trust and rely on other people for the help she would need in the new reality of her daily life. This compelling and honest memoir is a record of her struggle against the physical challenges of living with progressive disease but also of the support and incredible friendships she found along the way.
BC Bestseller for 2 consecutive weeks.
No. 9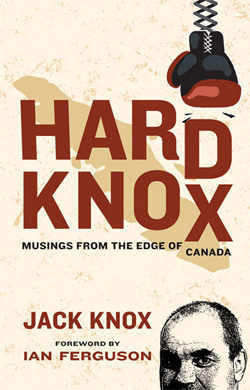 Hard Knox: Musings from the Edge of Canada
by Jack Knox
Heritage House Publishing | 9781772031492 | Order Online
In Hard Knox, seasoned columnist and consummate everyman Jack Knox offers up his uniquely hilarious views on Canadian life as seen from the western fringes of the country—in particular from the "Island of Misfit Toys" as he aptly calls his Vancouver Island home. This treasure trove of west-coast wit and wisdom touches on everything from "smug anti-Americanism" to extreme weather to flagrant public displays of affection in Canada's westernmost capital. Whether you're a born-and-bred Islander, a transplanted Albertan in the throes of culture shock, or a confused tourist, we all have something to learn from the school of Hard Knox.
BC Bestseller for 1 consecutive week.
No. 10
Price Paid: The Fight for First Nations Survival
by Bev Sellars
Talonbooks | 9780889229723 | Order Online

The second book by award-winning author Bev Sellars, Price Paid untangles truth from some of the myths about First Nations and addresses misconceptions still widely believed today. It documents the dark period of regulation by racist laws during the twentieth century, and then discusses new emergence in the twenty-first century into a re-establishment of Indigenous land and resource rights. The result is a candidly told personal take on the history of Aboriginal rights in Canada and Canadian history told from a First Nations point of view.
BC Bestseller for 1 consecutive week.
No. 11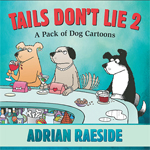 Tails Don't Lie 2: A Pack of Dog Cartoons
by Adrian Raeside, illustrated by Adrian Raeside
Harbour Publishing | 9781550177930 | Order Online

Tails Don't Lie 2 is Adrian Raeside's hilarious follow-up to the bestselling Tails Don't Lie (Harbour Publishing, 2013), collecting even more of his favourite cartoons featuring our four-legged hairy scroungers. This new volume explores important canine traits like why dogs covet the driver's seat, what would happen if dogs went on space missions (do aliens have dogs?), the humiliation of tail docking, the immense importance of trees to a dog, and the eternal question of why squirrel-chasing isn't included in dog agility courses.
BC Bestseller for 10 consecutive weeks.
No. 12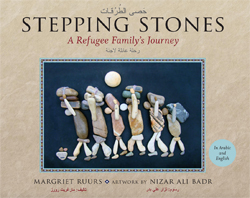 Stepping Stones: A Refugee Family's Journey
by Margriet Ruurs, illustrated by Nizar Ali Badr
Orca Book Publishers | 9781459814905 | Order Online
This unique picture book was inspired by the stone artwork of Syrian artist Nizar Ali Badr, discovered by chance by Canadian children's writer Margriet Ruurs. The author was immediately impressed by the strong narrative quality of Mr. Badr's work, and, using many of Mr. Badr's already-created pieces, she set out to create a story about the Syrian refugee crisis. Stepping Stones tells the story of Rama and her family, who are forced to flee their once-peaceful village to escape the ravages of the civil war raging ever closer to their home. With only what they can carry on their backs, Rama and her mother, father, grandfather and brother, Sami, set out to walk to freedom in Europe. Nizar Ali Badr's stunning stone images illustrate the story. Orca Book Publishers is pleased to offer this book as a dual-language (English and Arabic) edition.
BC Bestseller for 3 consecutive weeks.
No. 13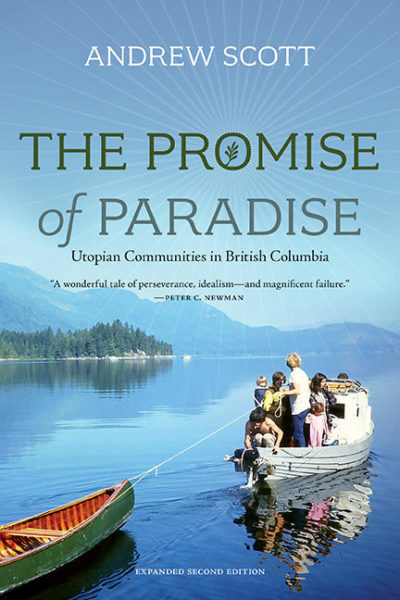 The Promise of Paradise: Utopian Communities in British Columbia
by Andrew Scott
Harbour Publishing | 9781550177718 | Order Online
The West has long attracted visionaries and schemers from around the world. And no other region in North America can outstrip British Columbia for the number of utopian or intentional settlement attempts in the past 150 years. Andrew Scott delves into the dramatic stories of these fascinating, but often doomed, communities. With careful research and engaging first-person accounts, Scott sifts through the wreckage of the utopia-seekers' dreams and delves into the practices and philosophies of contemporary intentional communities. This book is a compendium of astounding misadventures as well as an intriguing analysis of what moves people to search for paradise.
BC Bestseller for 1 consecutive week.
No. 14
25 Places in Canada Every Family Should Visit
by Jody Robbins
TouchWood Editions | 9781771512015 | Order Online
Planning a family getaway can be overwhelming, but award-winning freelance travel writer and blogger Jody Robbins puts you on the right path with savvy suggestions for families who are keen to explore Canada with their little loved ones. With the insight and enthusiasm of a trustworthy, well-traveled friend, Robbins lays out 25 of the top destinations for families, and provides detailed information on the most enjoyable activities, sites, and attractions. From child-friendly family hikes in the wilderness to exciting and affordable urban adventures, you'll create memories of a lifetime as you visit destinations that welcome families with kids of all ages. Be inspired on where to go, learn what to bring, and hit the road!
BC Bestseller for 1 consecutive week.
No. 15
The Two Sisters
by E. Pauline Johnson, illustrated by Sandra Butt
Waterlea Books | 9780994999719
For the first time, Pauline Johnson's "The Two Sisters," a First Nations legend, is accompanied by sumptuous illustrations that showcase the splendour of the Salish Sea. The universal themes of Creation, courage, and peace run through this legend of two little girls who grow up to be courageous young women who help to bring lasting peace to their world. The story is supplemented by a reference section that will enable a reader, parent, teacher, or visitor to the coast to immerse themselves in the rich history of Coast Salish cultures.
BC Bestseller for 1 consecutive week.