The BC Bestseller List is compiled using sales data from over 80 independent bookstores in BC, which is provided to the ABPBC by TBM BookManager. The list represents sales of BC published books released within the calendar year.
No. 1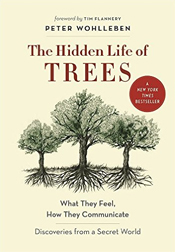 The Hidden Life of Trees: What They Feel, How They Communicate—Discoveries from A Secret World 
by Peter Wohlleben
Greystone Books | 9781771642484 | Order Online
In this international bestseller, forester, and author Peter Wohlleben draws on groundbreaking scientific discoveries to describe how trees are like human families; tree parents live together with their children, communicate with them, support them as they grow, share nutrients with those who are sick or struggling, and even warn each other of impending dangers. With their newfound understanding of the delightfully complex life of trees, readers will never be able to look at a walk in the woods the same way again.
BC Bestseller for 41 consecutive weeks.
No. 2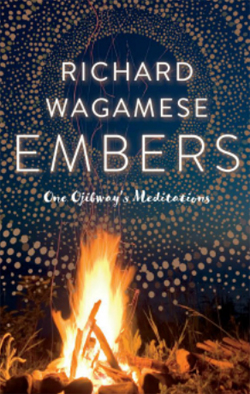 Embers: One Ojibway's Meditations 
by Richard Wagamese
Douglas & McIntyre | 9781771621335
In this carefully curated selection of everyday reflections, Richard Wagamese finds lessons in both the mundane and sublime as he muses on the universe, drawing inspiration from working in the bush–sawing and cutting and stacking wood for winter as well as the smudge ceremony to bring him closer to the Creator. Embers is perhaps Richard Wagamese's most personal volume to date. Honest, evocative and articulate, he explores the various manifestations of grief, joy, recovery, beauty, gratitude, physicality and spirituality–concepts many find hard to express. But for Wagamese, spirituality is multifaceted. Within these pages, readers will find hard-won and concrete wisdom on how to feel the joy in the everyday things. Wagamese does not seek to be a teacher or guru, but these observations made along his own journey to become, as he says, "a spiritual bad-ass," make inspiring reading.
BC Bestseller for 35 consecutive weeks.
No. 3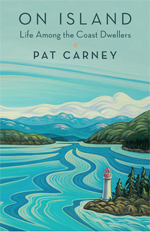 On Island: Life Among the Coast Dwellers 
by Pat Carney 
TouchWood Editions | 9781771512107 | Order Online
In this story collection, Pat Carney follows the rhythms of day-to-day life in coastal BC. Featuring a revolving cast of characters—the newly retired couple, the church warden, the musician, the small-town girl with big city dreams—Carney's keen observations of the personalities and dramas of coastal life are instantly recognizable to readers who are familiar with life in a small community. With her narrative of dock fights, pet shows, family feuds, logging camps and the ever-present tension between islanders and property-owning "off-islanders," Carney's witty and perceptive voice describes how the islanders weather the storms of coastal life.
BC Bestseller for 15 consecutive weeks.
No. 4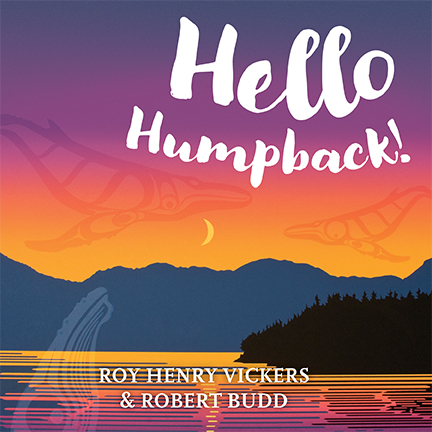 Hello Humpback!
by Roy Henry Vickers & Robert Budd, illustrated by Roy Henry Vickers
Harbour Publishing | 9781550177992 | Order Online
With bright and bold illustrations of the wild and magical West Coast by celebrated artist Roy Henry Vickers, this sturdy board book will delight babies and toddlers as they begin to experience and recognize the sights and sounds of the natural world. Hello Humpback!, a "first words" book, introduces iconic West Coast animals, from hungry sea otters to hopping orcas, and is sure to become an instant classic.
BC Bestseller for 20 consecutive weeks.
No. 5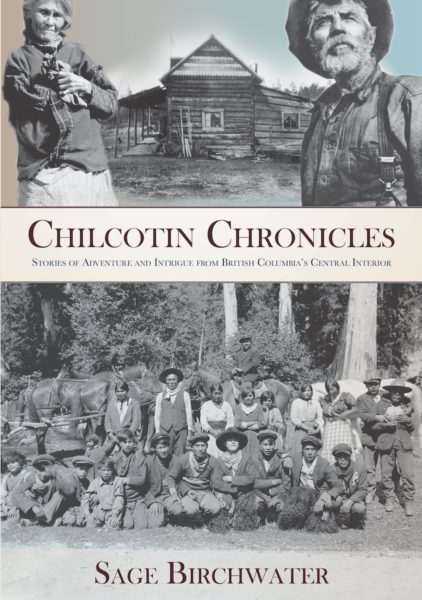 Chilcotin Chronicles: Stories of Adventure and Intrigue from British Columbia's Central Interior
by Sage Birchwater
Caitlin Press | 9781987915334 | Order Online
Set in the wild and untamed country of central British Columbia's Chilcotin Plateau, Chilcotin Chronicles is about men and women caught in its interface of cultures and changing landscape. Indigenous inhabitants and white newcomers brought together by the fur brigades, then later by the gold rush, forged a path together that was uncharted and unpredictable. Birchwater discovers that their stories, seemingly disconnected, are intrinsically linked together to create a human ecosystem with very deep roots. The lives of these early inhabitants give substance to the landscape and meaning to the people who live there today.
BC Bestseller for 12 consecutive weeks.
No. 6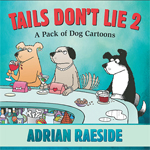 Tails Don't Lie 2: A Pack of Dog Cartoons
by Adrian Raeside, illustrated by Adrian Raeside
Harbour Publishing | 9781550177930 | Order Online

Tails Don't Lie 2 is Adrian Raeside's hilarious follow-up to the bestselling Tails Don't Lie (Harbour Publishing, 2013), collecting even more of his favourite cartoons featuring our four-legged hairy scroungers. This new volume explores important canine traits like why dogs covet the driver's seat, what would happen if dogs went on space missions (do aliens have dogs?), the humiliation of tail docking, the immense importance of trees to a dog, and the eternal question of why squirrel-chasing isn't included in dog agility courses.
BC Bestseller for 1 consecutive week.
No. 7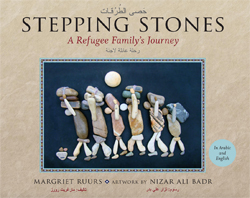 Stepping Stones: A Refugee Family's Journey
by Margriet Ruurs, illustrated by Nizar Ali Badr
Orca Book Publishers | 9781459814905 | Order Online
This unique picture book was inspired by the stone artwork of Syrian artist Nizar Ali Badr, discovered by chance by Canadian children's writer Margriet Ruurs. The author was immediately impressed by the strong narrative quality of Mr. Badr's work, and, using many of Mr. Badr's already-created pieces, she set out to create a story about the Syrian refugee crisis. Stepping Stones tells the story of Rama and her family, who are forced to flee their once-peaceful village to escape the ravages of the civil war raging ever closer to their home. With only what they can carry on their backs, Rama and her mother, father, grandfather and brother, Sami, set out to walk to freedom in Europe. Nizar Ali Badr's stunning stone images illustrate the story. Orca Book Publishers is pleased to offer this book as a dual-language (English and Arabic) edition.
BC Bestseller for 7 consecutive weeks.
No. 8
British Columbia from Scratch: Recipies for Every Season
by Denise Marchessault and Caroline West 
Whitecap Books | 9781770502345 | Order Online
A celebration of British Columbia through a cook's palate and a photographer's lens, this cookbook highlights the province's diverse edible landscape, from the Pacific Ocean's seafood to Okanagan fruit. The seasonal layout pairs an eclectic collection of made-from-scratch recipes with evocative images, paying tribute to wholesome unprocessed foods and the skilled farmers who grow them.
BC Bestseller for 1 consecutive week.
No. 9
Victoria's Most Haunted: Ghost Stories from BC's Historic Capital City
by Ian Gibbs
TouchWood Editions | 9781771512138 | Order Online
Beautiful, charming Victoria is world renowned for its seaside attractions, flourishing gardens, and breathtaking ocean views. But looming behind its picture-perfect façade is a city shrouded in mystery, with restless, disembodied beings that whisper ghastly tales of mystery, violence, and horror. Victoria's Most Haunted includes tales from iconic sites such as the Empress hotel, Hatley Castle, and Ross Bay Cemetery.
BC Bestseller for 2 consecutive weeks.
No. 10
The Queen of the North Disaster: The Captain's Story
by Colin Henthorne
Harbour Publishing | 9781550177619
Few recent events in British Columbia have seized the public mind like the 2006 sinking of the BC Ferries passenger vessel Queen of the North. Across Canada, it was one of the top news stories of the year. In BC it has attained the status of nautical legend. On the tenth anniversary of the tragedy, Captain Colin Henthorne recalls with accuracy and detail that ill-fated voyage and all its terrible repercussions. The Queen of the North Disaster: The Captain's Story dispels rumours about what really happened that night, revealing a fascinating inside look at a modern marine disaster.
BC Bestseller for 1 consecutive week.
No. 11
Wolf Island
by Nicholas Read, photographs by Ian McAllister
Orca Book Publishers | 9781459812642 | Order Online
The Great Bear Rainforest is a majestic place full of tall trees, huge bears and endless schools of salmon. Award-winning photographer and author Ian McAllister's luminous photographs illustrate the story of a lone wolf who swims to one of the small islands that dot the rainforest's coast. The island provides him with everything he needs—deer, salmon, fresh water—everything, that is, but a mate. When a female wolf arrives on the island's rocky shores, she and he start a family and introduce their pups to the island's bounty.
BC Bestseller for 1 consecutive week.
No. 12
Price Paid: The Fight for First Nations Survival
by Bev Sellars 
Talonbooks | 9780889229723 | Order Online

The second book by award-winning author Bev Sellars, Price Paid untangles truth from some of the myths about First Nations and addresses misconceptions still widely believed today. It documents the dark period of regulation by racist laws during the twentieth century, and then discusses new emergence in the twenty-first century into a re-establishment of Indigenous land and resource rights. The result is a candidly told personal take on the history of Aboriginal rights in Canada and Canadian history told from a First Nations point of view.
BC Bestseller for 2 consecutive weeks.
No. 13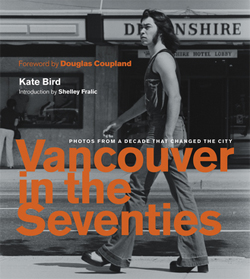 Vancouver in the Seventies: Photos from a Decade That Changed the City
by Kate Bird
Greystone Books | 9781771642408 | Order Online
Fresh out of the freewheeling sixties, the seventies was a decade of immense change for Vancouver—a time of protest, political upheaval, economic boom, and cultural evolution. Through it all, the Vancouver Sun's award-winning photographers chronicled the city's metamorphosis. Shooting more than 4,500 photo assignments each year, they covered news, politics, business and industry, sports, entertainment, food, and fashion, without missing a beat. These images capture pivotal moments in this dynamic city's history, including the Gastown Riot, the founding of Greenpeace, the wide-eyed innocence of five-year-old Justin Trudeau, and the amazing film career of Chief Dan George. Vancouver in the Seventies presents 149 exclusive photos from the Vancouver Sun's extensive collection along with fascinating essays by long-time Sun news research librarian Kate Bird and former Sun journalist Shelley Fralic.
BC Bestseller for 2 consecutive weeks.
No. 14
The Year Canadians Lost Their Minds and Found Their Country The Centennial of 1967
by Tom Hawthorn
Douglas & McIntyre | 9781771621502 | Order Online
At first, Canadians showed little interest in marking the centennial. The announcement of a federal program to plan the celebration was met with initial indifference. After all, the event to be celebrated was spectacularly uninteresting—the nation was founded not in blood and revolution, but by discussion and negotiation, bewhiskered men in nineteenth-century frock coats sitting around tables for palaver. But a funny thing happened in the weeks leading to New Year's Day, 1967. Canadians embraced the official plans for a celebration and, encouraged by government largesse, began making plans of their own. For one happy, giddy, insane year, a normally reserved people decided to hold a blockbuster party from coast to coast to coast. Richly illustrated with period photographs and ephemera, here is the story of that fun, exciting year, told in the same giddy spirit with which Canadians celebrated.
BC Bestseller for 1 consecutive week.
No. 15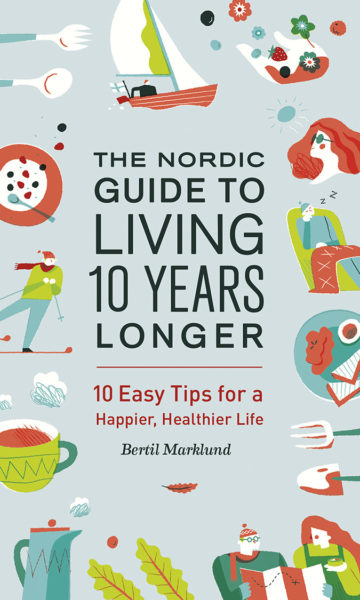 The Nordic Guide to Living 10 Years Longer: 10 Easy Tips For a Happier, Healthier Life
by Dr. Bertil Marklund
Greystone Books | 9781771642910
Swedish doctor Bertil Marklund covers broad ground in this short book, providing a comprehensive guide to lifestyle choices, many of which are inspired by Nordic ideals about engaging in vigorous outdoor recreation, foraging for food such as berries, and—important to those in Northern climes—getting enough sunlight. Other tips cover areas such as sleep and the negative impact of stress. We can all make some of the changes outlined in the book without completely rethinking the way we live. By providing pragmatic and realistic advice, Dr. Marklund gives you the power to make a difference in your own life–today, and for the future.
BC Bestseller for 1 consecutive week.