The BC Bestseller List is compiled using sales data from more than 70 independent bookstores in BC, which is provided to the ABPBC by TBM BookManager. The list represents sales of BC published books released within the calendar year.
No. 1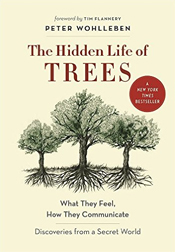 The Hidden Life of Trees: What They Feel, How They Communicate—Discoveries from A Secret World
by Peter Wohlleben
Greystone Books | 9781771642484

In this international bestseller, forester, and author Peter Wohlleben draws on groundbreaking scientific discoveries to describe how trees are like human families; tree parents live together with their children, communicate with them, support them as they grow, share nutrients with those who are sick or struggling, and even warn each other of impending dangers. With their newfound understanding of the delightfully complex life of trees, readers will never be able to look at a walk in the woods the same way again.
BC Bestseller for 50 consecutive weeks
No. 2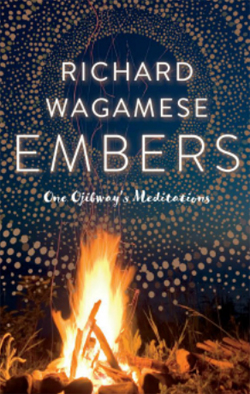 Embers: One Ojibway's Meditations
by Richard Wagamese
Douglas & McIntyre | 9781771621335 

In this carefully curated selection of everyday reflections, Richard Wagamese finds lessons in both the mundane and sublime as he muses on the universe, drawing inspiration from working in the bush–sawing and cutting and stacking wood for winter as well as the smudge ceremony to bring him closer to the Creator. Embers is perhaps Richard Wagamese's most personal volume to date. Honest, evocative and articulate, he explores the various manifestations of grief, joy, recovery, beauty, gratitude, physicality and spirituality–concepts many find hard to express. But for Wagamese, spirituality is multifaceted. Within these pages, readers will find hard-won and concrete wisdom on how to feel the joy in the everyday things. Wagamese does not seek to be a teacher or guru, but these observations made along his own journey to become, as he says, "a spiritual bad-ass," make inspiring reading.
BC Bestseller for 44 consecutive weeks
No. 3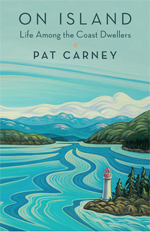 On Island: Life Among the Coast Dwellers
by Pat Carney
TouchWood Editions | 9781771512107

In this story collection, Pat Carney follows the rhythms of day-to-day life in coastal BC. Featuring a revolving cast of characters—the newly retired couple, the church warden, the musician, the small-town girl with big city dreams—Carney's keen observations of the personalities and dramas of coastal life are instantly recognizable to readers who are familiar with life in a small community. With her narrative of dock fights, pet shows, family feuds, logging camps and the ever-present tension between islanders and property-owning "off-islanders," Carney's witty and perceptive voice describes how the islanders weather the storms of coastal life.
BC Bestseller for 24 consecutive weeks
No. 4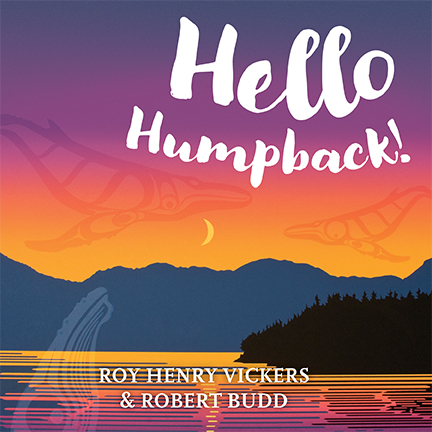 Hello Humpback!
by Roy Henry Vickers & Robert Budd, illustrated by Roy Henry Vickers
Harbour Publishing | 9781550177992
With bright and bold illustrations of the wild and magical West Coast by celebrated artist Roy Henry Vickers, this sturdy board book will delight babies and toddlers as they begin to experience and recognize the sights and sounds of the natural world. Hello Humpback!, a "first words" book, introduces iconic West Coast animals, from hungry sea otters to hopping orcas, and is sure to become an instant classic.
BC Bestseller for 29 consecutive weeks
No. 5

Harry: A Wilderness Dog Saga
by Chris Czajkowski
Harbour Publishing | 9781550178098
Living alone in the remote wilderness, Chris Czajkowski has given her dogs a rich life, although not without its difficulties. Often residing in areas accessible only by float plane, the dogs have encountered grizzlies and cougars, slept in the snow, hiked with packs of food and equipment, and occasionally gotten themselves into scrapes, such as becoming lost in the wild or falling through ice into a freezing river. The gregarious and lovable Harry gives his account of their years together at Nuk Tessli and Ginty Creek. Together, they trace Chris's off-the-grid life from a dog's-eye view as she established an ecotourism business, built cabins by hand and scratched out a living for herself and the pack.

BC Bestseller for 5 consecutive weeks
No. 6

British Columbia from Scratch: Recipes for Every Season
by Denise Marchessault and Caroline West
Whitecap Books | 9781770502345
A celebration of British Columbia through a cook's palate and a photographer's lens, this cookbook highlights the province's diverse edible landscape, from the Pacific Ocean's seafood to Okanagan fruit. The seasonal layout pairs an eclectic collection of made-from-scratch recipes with evocative images, paying tribute to wholesome unprocessed foods and the skilled farmers who grow them.
BC Bestseller for 10 consecutive weeks
No. 7

Stepping Stones: A Refugee Family's Journey
by Margriet Ruurs
Orca Books | 9781459814905
This unique picture book was inspired by the stone artwork of Syrian artist Nizar Ali Badr, discovered by chance by Canadian children's writer Margriet Ruurs. The author was immediately impressed by the strong narrative quality of Mr. Badr's work, and, using many of Mr. Badr's already-created pieces, she set out to create a story about the Syrian refugee crisis. Stepping Stones tells the story of Rama and her family, who are forced to flee their once-peaceful village to escape the ravages of the civil war raging ever closer to their home. With only what they can carry on their backs, Rama and her mother, father, grandfather and brother, Sami, set out to walk to freedom in Europe. Nizar Ali Badr's stunning stone images illustrate the story.
BC Bestseller for 2 consecutive weeks
No. 8

North of Familiar: A Woman's Story of Homesteading and Adventure in the Canadian Wilderness
by Terry Milos
Caitlin Press | 9781987915457
Adventure, family, and the wild – one woman's story of starting a family on the border of BC, the Yukon, and any semblance of human settlement. In 1974, Terry Milos moved to rural northern Canada, to pursue her dream of homesteading. Following the seventies trend of the back-to-landers, she and her partner left the city life for what they imagined would be a simpler existence. Sometimes humorous and often insightful, North of Familiar is the story of a woman who learned to hunt, fish, and live off the land in what most would consider an utterly hostile and unbelievably cold environment.
BC Bestseller for 2 consecutive weeks
No. 9

We Sang You Home
by Richard Van Camp
Orca Books | 9781459811782
In this sweet and lyrical board book from the creators of the bestselling Little You, gentle rhythmic text captures the wonder new parents feel as they welcome baby into the world. A celebration of the bond between parent and child, this is the perfect song to share with your little ones.
BC Bestseller for 1 consecutive week
No. 10

The Killer Whale Who Changed the World
by Mark Leiren-Young
Greystone Books | 9781771643511
Killer whales had always been seen as bloodthirsty sea monsters. That all changed when a young killer whale was captured off the west coast of North America and displayed to the public in 1964. Moby Doll—as the whale became known—was an instant celebrity, drawing twenty thousand visitors on the one and only day he was exhibited. He died within a few months, but his famous gentleness sparked a worldwide crusade that transformed how people understood and appreciated orcas. Because of Moby Doll, we stopped fearing "killers" and grew to love and respect "orcas."
BC Bestseller for 1 consecutive week
No. 11

Pandas on the Eastside
by Gabrielle Prendergast
Orca Book Publishers | 9781459811430
When ten-year-old Journey Song hears that two pandas are being held in a warehouse in her neighborhood, she worries that they may be hungry, cold and lonely. Horrified to learn that the pandas, originally destined for a zoo in Washington, might be shipped back to China because of a diplomatic spat between China and the United States, Journey rallies her friends and neighbors on the poverty-stricken Eastside. Her infectious enthusiasm for all things panda is hard to resist, and soon she's getting assistance from every corner of her tight-knit neighborhood.

BC Bestseller for 2 consecutive weeks
No. 12

Wolf Island
by Ian McAllister & Nicholas Read
Orca Books | 9781459812642
The Great Bear Rainforest is a majestic place full of tall trees, huge bears and endless schools of salmon. Award-winning photographer and author Ian McAllister's luminous photographs illustrate the story of a lone wolf who swims to one of the small islands that dot the rainforest's coast. The island provides him with everything he needs—deer, salmon, fresh water—everything, that is, but a mate. When a female wolf arrives on the island's rocky shores, she and he start a family and introduce their pups to the island's bounty.
BC Bestseller for 1 consecutive week
No. 13

Bear's Life
by Ian McAllister & Nicholas Reed
Orca Books | 9781459812703
What happens when one small boy picks up one small piece of litter? He doesn't know it, but his tiny act has big consequences. From the minuscule to the universal, What Matters sensitively explores nature's connections and traces the ripple effects of one child's good deed to show how we can all make a big difference.
BC Bestseller for 2 consecutive weeks
No. 14

Beckoned by the Sea: Women at Work on the Cascadia Coast
by Sylvia Taylor
Heritage House Publishing | 9781772031805
Beckoned by the Sea celebrates coastal women from northern BC to northern California who work on or with the sea. The twenty-four women featured in this inspiring and fascinating book represent a variety of industries—from conservation, commercial fishing, and marine biology to safety and rescue, tourism, and the arts.

BC Bestseller for 6 consecutive weeks


No. 15
Spindrift: A Canadian Book of the Sea
Edited and Introduced by Michael L. Hadley and Anita Hadley
Douglas and McIntyre Ltd. | 9781771621731
Given that Canada has the longest coastline in the world and its motto is "From Sea unto Sea," it is not surprising that virtually every Canadian writer has been inspired to write about some aspect of the sea at some point in their work. As this book shows, those watery passages are some of the very best writing the nation has produced. Journeying coast to coast to coast, from the picturesque and isolated Vancouver Island village of Ucluelet, through the desolate Northwest Passage, to historic Signal Hill at the tip of Newfoundland's Avalon Peninsula, Spindrift: A Canadian Book of the Sea invites the reader on an evocative voyage.
BC Bestseller for 3 consecutive weeks
Sign-up here for the BC Bestseller List