The BC Bestseller List is compiled using sales data from more than 70 independent bookstores in BC, which is provided to the ABPBC by TBM BookManager. The list represents sales of BC published books released within the calendar year.
No. 1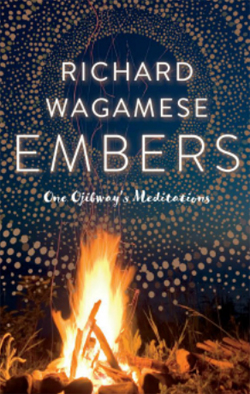 Embers: One Ojibway's Meditations
by Richard Wagamese
Douglas & McIntyre | 9781771621335 

In this carefully curated selection of everyday reflections, Richard Wagamese finds lessons in both the mundane and sublime as he muses on the universe, drawing inspiration from working in the bush–sawing and cutting and stacking wood for winter as well as the smudge ceremony to bring him closer to the Creator. Embers is perhaps Richard Wagamese's most personal volume to date. Honest, evocative and articulate, he explores the various manifestations of grief, joy, recovery, beauty, gratitude, physicality and spirituality–concepts many find hard to express. But for Wagamese, spirituality is multifaceted. Within these pages, readers will find hard-won and concrete wisdom on how to feel the joy in the everyday things. Wagamese does not seek to be a teacher or guru, but these observations made along his own journey to become, as he says, "a spiritual bad-ass," make inspiring reading.
BC Bestseller for 48 consecutive weeks
No. 2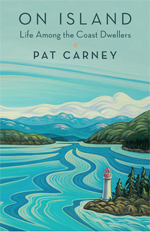 On Island: Life Among the Coast Dwellers
by Pat Carney
TouchWood Editions | 9781771512107

In this story collection, Pat Carney follows the rhythms of day-to-day life in coastal BC. Featuring a revolving cast of characters—the newly retired couple, the church warden, the musician, the small-town girl with big city dreams—Carney's keen observations of the personalities and dramas of coastal life are instantly recognizable to readers who are familiar with life in a small community. With her narrative of dock fights, pet shows, family feuds, logging camps and the ever-present tension between islanders and property-owning "off-islanders," Carney's witty and perceptive voice describes how the islanders weather the storms of coastal life.
BC Bestseller for 27 consecutive weeks
No. 3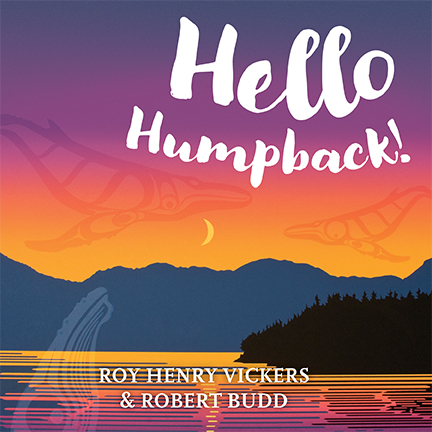 Hello Humpback!
by Roy Henry Vickers & Robert Budd, illustrated by Roy Henry Vickers
Harbour Publishing | 9781550177992
With bright and bold illustrations of the wild and magical West Coast by celebrated artist Roy Henry Vickers, this sturdy board book will delight babies and toddlers as they begin to experience and recognize the sights and sounds of the natural world. Hello Humpback!, a "first words" book, introduces iconic West Coast animals, from hungry sea otters to hopping orcas, and is sure to become an instant classic.
BC Bestseller for 33 consecutive weeks
No. 4

Speaking Our Truth: A Journey of Reconciliation 
by Monique Gray Smith
Orca Book Publishers | 9781459815834
Canada's relationship with its Indigenous people has suffered as a result of both the residential school system and the lack of understanding of the historical and current impact of those schools. Healing and repairing that relationship requires education, awareness and increased understanding of the legacy and the impacts still being felt by Survivors and their families. Guided by acclaimed Indigenous author Monique Gray Smith, readers will learn about the lives of Survivors and listen to allies who are putting the findings of the Truth and Reconciliation Commission into action.
BC Bestseller for 4 consecutive weeks
No. 5

You Hold Me Up
by Monique Gray Smith, illustrated by Danielle Daniel
Orca Book Publishers | 9781459812642
Consultant, international speaker, and award-winning author Monique Gray Smith wrote You Hold Me Up to prompt a dialogue among young people, their care providers and educators about reconciliation and the importance of the connections children make with their friends, classmates and families. This is a foundational book about building relationships, fostering empathy and encouraging respect between peers, starting with our littlest citizens.
BC Bestseller for 4 consecutive weeks

No. 6

Spindrift: A Canadian Book of the Sea
Edited and Introduced by Michael L. Hadley and Anita Hadley
Douglas and McIntyre Ltd. | 9781771621731
Given that Canada has the longest coastline in the world and its motto is "From Sea unto Sea," it is not surprising that virtually every Canadian writer has been inspired to write about some aspect of the sea at some point in their work. As this book shows, those watery passages are some of the very best writing the nation has produced. Journeying coast to coast to coast, from the picturesque and isolated Vancouver Island village of Ucluelet, through the desolate Northwest Passage, to historic Signal Hill at the tip of Newfoundland's Avalon Peninsula, Spindrift: A Canadian Book of the Sea invites the reader on an evocative voyage.
BC Bestseller for 7 consecutive weeks
No. 7

The Georgia Straight: A 50th Anniversary Celebration
by Doug Sarti & Dan McLeod with an introduction by Bob Geldof
RMB | Rocky Mountain Books | 9781771602525
For 50 years the Georgia Straight has served as the voice of reason during a number of turbulent times. With fearless tenacity, the Straight has always taken the good fight to the powers that be, whether they come in the form of big business, city hall, the provincial legislature, parliament or just plain human folly. Together in one place for the first time, this collection of Straight covers spans five decades of newsworthy figures, events, issues and pop culture. A visual time capsule of sorts, it's a significant graphic chronicle of both the counterculture and recent Vancouver history – after all, if it was important, entertaining or inspiring, the Straight covered it. With work from a multitude of artists using various media and contrasting styles, this collection illustrates – literally – how the Straight was able to seize the moral high ground in the culture wars and turn civil disobedience into an art form.
BC Bestseller for 1 consecutive week
No. 8

In Case I Go
by Angie Abdou
Arsenal Pulp Press | 9781551527031
In Canada Reads finalist Angie Abdou's fifth work of fiction, Eli and his parents have returned to their family home in Coalton, a small mountain town. The parents, Nicholas and Lucy, hope that by escaping their hectic city lives, they will restore calm and stability to their marriage, but they find that once charming Coalton is no longer the remote idyll they remembered. Development of a high-end subdivision has disturbed a historic graveyard, drawing negative press from national media. While Nicholas works long hours at the local coal mine and Lucy battles loneliness and depression, Eli befriends Mary, a troubled Ktunaxa girl who lives next door. Both children, disturbed by visions of people and places long forgotten, are challenged to account for past lives of seduction and betrayal
BC Bestseller for 3 consecutive weeks
No. 9

Harry: A Wilderness Dog Saga
by Chris Czajkowski
Harbour Publishing | 9781550178098
Living alone in the remote wilderness, Chris Czajkowski has given her dogs a rich life, although not without its difficulties. Often residing in areas accessible only by float plane, the dogs have encountered grizzlies and cougars, slept in the snow, hiked with packs of food and equipment, and occasionally gotten themselves into scrapes, such as becoming lost in the wild or falling through ice into a freezing river. The gregarious and lovable Harry gives his account of their years together at Nuk Tessli and Ginty Creek. Together, they trace Chris's off-the-grid life from a dog's-eye view as she established an ecotourism business, built cabins by hand and scratched out a living for herself and the pack.

BC Bestseller for 8 consecutive weeks
No. 10

Stepping Stones: A Refugee Family's Journey
by Margriet Ruurs, illustrated by Nizar Ali Badr
Orca Book Publishers | 9781459814905
This unique picture book was inspired by the stone artwork of Syrian artist Nizar Ali Badr, discovered by chance by Canadian children's writer Margriet Ruurs. The author was immediately impressed by the strong narrative quality of Mr Badr's work, and, using many of Mr Badr's already-created pieces, she set out to create a story about the Syrian refugee crisis. Stepping Stones tells the story of Rama and her family, who are forced to flee their once-peaceful village to escape the ravages of the civil war raging ever closer to their home. With only what they can carry on their backs, Rama and her mother, father, grandfather and brother, Sami, set out to walk to freedom in Europe. Nizar Ali Badr's stunning stone images illustrate the story.
BC Bestseller for 6 consecutive weeks
No. 11
Views of the Salish Sea: One Hundred and Fifty Years of Change around the Strait of Georgia
by Howard Macdonald Stewart
Harbour Publishing | 9781550178036
It is not mere coincidence that two-thirds of the population of British Columbia occupies lands bordering its great inland sea, the Strait of Georgia, and connected waterways collectively known as the North Salish Sea. Averaging forty kilometres in width and stretching some three hundred kilometres from Vancouver and Victoria in the south to Powell River and Campbell River in the north, the North Salish Sea has long sheltered a bounty of habitable lands and rich maritime resources ideal for human settlement. While the region's intricate shoreline of peninsulas, promontories, estuaries and plains has been occupied by human communities for millennia, the last century and a half has been an unprecedented age of rapid colonization, industrialization and globalization. Many books have been written about individual communities and industries around the great waterway, but none have examined the region as a geographical unit with its own dynamic systems, which can best be understood as an interrelated whole.
BC Bestseller for 1 consecutive week
No. 12

Chasing Smoke: A Wildfire Memoir
by Aaron Williams
Harbour Publishing | 9781550178050
Chasing Smoke is an enthralling insider-account of how a fire season unfolds. Experienced firefighter Aaron Williams offers a tangible window into the intensely physical, high-adrenalin lifestyle shared by his crew of eccentrics, all eager to be on the front line. Williams shares what it's like to work sixteen-hour days in an apocalyptic landscape, where the smoke is so thick your snot runs black and you need to drink ten litres of water a day. What it's like to make a stupid mistake and singe your beard in front of your crew, or spend hours hosing a spot the size of a queen mattress and still not extinguish the burn. What it's like to hear a tree fall, a co-worker's shout, and imagine the worst.
BC Bestseller for 1 consecutive week
No. 13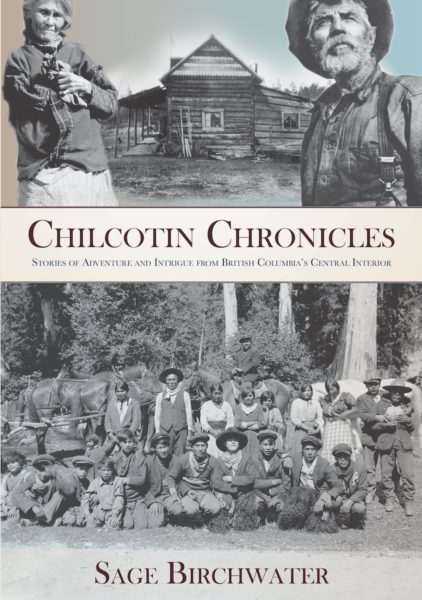 Chilcotin Chronicles: Stories of Adventure and Intrigue from British Columbia's Central Interior
by Sage Birchwater
Caitlin Press | 9781987915334

Set in the wild and untamed country of central British Columbia's Chilcotin Plateau, Chilcotin Chronicles is about men and women caught in its interface of cultures and changing landscape. Indigenous inhabitants and white newcomers brought together by the fur brigades, then later by the gold rush, forged a path together that was uncharted and unpredictable. Birchwater discovers that their stories, seemingly disconnected, are intrinsically linked together to create a human ecosystem with very deep roots. The lives of these early inhabitants give substance to the landscape and meaning to the people who live there today.
BC Bestseller for 4 consecutive weeks
No. 14

Arthur: The Dog who Crossed the Jungle to Find a Home
by Mikael Lindnord
Greystone Books Ltd. | 9781771643375
When you're racing 435 miles through the jungles and mountains of South America, the last thing you need is a stray dog tagging along. But that's exactly what happened to Mikael Lindnord, captain of a Swedish adventure racing team when he threw a scruffy but dignified mongrel a meatball one afternoon.When the team left the next day, the dog followed. Try as they might, they couldn't lose him—and soon Mikael realized that he didn't want to.
​
BC Bestseller for 1 consecutive week
No. 15
Hard Knox: Musings from the Edge of Canada
by Jack Knox
Heritage House Publishing | 9781772031492
In Hard Knox, seasoned columnist and consummate everyman Jack Knox offers up his uniquely hilarious views on Canadian life as seen from the western fringes of the country—in particular from the "Island of Misfit Toys" as he aptly calls his Vancouver Island home. This treasure trove of west-coast wit and wisdom touches on everything from "smug anti-Americanism" to extreme weather to flagrant public displays of affection in Canada's westernmost capital. Whether you're a born-and-bred Islander, a transplanted Albertan in the throes of culture shock, or a confused tourist, we all have something to learn from the school of Hard Knox.
​
BC Bestseller for 2 consecutive weeks