The BC Bestseller List is compiled using sales data from more than 70 independent bookstores in BC, which is provided to the ABPBC by TBM BookManager. The list represents sales of BC published books released within the calendar year.
No. 1
Whitewater Cooks: More Beautiful Food is full of new recipes to inspire fans and once again turn home cooks into culinary rock stars, a hallmark of Shelley's earlier books. In the Salad section, try the Grilled Peach, Prosciutto and Burratta Salad, Soba Noodles with Prawns or the Fancy Pants Grilled Caesar Salad. From the Sides and Starters section, choose Cornmeal Crusted Tartes with Carmelized Onions, Fig Jam and Goat Cheese, Mike's Special Potatoes and/or the Hasselback Yams recipe. For an Entreé – there's Marsala Chicken with Lentils and Butternut Squash, Spiced Lamb and Halloumi Meatballs or the Texas Style Beef Brisket to name just a few. Finish off the evening with some baked sweetness with Raspberry Coffee Cake, French Silk Pie or a Rhubarb Frangipane Tarte. Shelley's innate flair for creating and developing recipes will not disappoint and soon home cooks across Canada will be serving their guests…more beautiful food…
BC Bestseller for 2 consecutive weeks
No. 2
The Inner Life of Animals: Love, Grief, and Compassion – Surprising Observations of a Hidden World
by Peter Wohlleben
Greystone Books | 9781771643016
Through vivid stories of devoted pigs, two-timing magpies, and scheming roosters, The Inner Life of Animals weaves the latest scientific research into how animals interact with the world with Peter Wohlleben's personal experiences in forests and fields. Horses feel shame, deer grieve, and goats discipline their kids. In this, his latest book, Peter Wohlleben follows the hugely successful The Hidden Life of Trees with insightful stories into the emotions, feelings, and intelligence of animals around us. Animals are different from us in ways that amaze us—and they are also much closer to us than we ever would have thought. Published in partnership with the David Suzuki Institute.
BC Bestseller for 7 consecutive weeks
No. 3
Opportunity Knox: Twenty Years of Award-Losing Humour Writing

by Jack Knox
Heritage House | 9781772032086
In this side-splitting follow-up to the bestseller Hard Knox: Musings from the Edge of Canada, Jack Knox presents his best writing, marking his twenty-year anniversary as a humour columnist at the Victoria Times Colonist, the newspaper that made him a household name. Revisiting his most—and least!—popular columns, Knox weighs the potential benefits of a marijuana-like drug that reduces anxiety in rats; reports on the "Bush Boys," a pair of brothers who emerged from the forest near Vernon with a dubious story about being raised in the wilderness (they were actually from suburban California); and muses over fictional characters such as Barbie, Ken, Harry Potter, and Archie growing up and facing the grim realities of life.
BC Bestseller for 9 consecutive weeks
No. 4
Harry: A Wilderness Dog Saga
by Chris Czajkowski
Harbour Publishing | 9781550178098
Living alone in the remote wilderness, Chris Czajkowski has given her dogs a rich life, although not without its difficulties. Often residing in areas accessible only by float plane, the dogs have encountered grizzlies and cougars, slept in the snow, hiked with packs of food and equipment, and occasionally gotten themselves into scrapes, such as becoming lost in the wild or falling through ice into a freezing river. The gregarious and lovable Harry gives his account of their years together at Nuk Tessli and Ginty Creek. Together, they trace Chris's off-the-grid life from a dog's-eye view as she established an ecotourism business, built cabins by hand and scratched out a living for herself and the pack.

BC Bestseller for 18 consecutive weeks
No. 5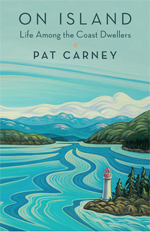 On Island: Life Among the Coast Dwellers
by Pat Carney
TouchWood Editions | 9781771512107

In this story collection, Pat Carney follows the rhythms of day-to-day life in coastal BC. Featuring a revolving cast of characters—the newly retired couple, the church warden, the musician, the small-town girl with big city dreams—Carney's keen observations of the personalities and dramas of coastal life are instantly recognizable to readers who are familiar with life in a small community. With her narrative of dock fights, pet shows, family feuds, logging camps and the ever-present tension between islanders and property-owning "off-islanders," Carney's witty and perceptive voice describes how the islanders weather the storms of coastal life.
BC Bestseller for 37 consecutive weeks
No. 6
Chasing Smoke: A Wildfire Memoir
by Aaron Williams
Harbour Publishing | 9781550178050
Chasing Smoke is an enthralling insider-account of how a fire season unfolds. Experienced firefighter Aaron Williams offers a tangible window into the intensely physical, high-adrenalin lifestyle shared by his crew of eccentrics, all eager to be on the front line. Williams shares what it's like to work sixteen-hour days in an apocalyptic landscape, where the smoke is so thick your snot runs black and you need to drink ten litres of water a day. What it's like to make a stupid mistake and singe your beard in front of your crew, or spend hours hosing a spot the size of a queen mattress and still not extinguish the burn. What it's like to hear a tree fall, a co-worker's shout, and imagine the worst.
BC Bestseller for 11 consecutive weeks
No. 7
First, We Brunch: Recipes and Stories from Victoria's Best-Loved Breakfast Joints
by Rebecca Wellman
TouchWood Editions | 9781771512312
First, We Brunch is an exquisitely photographed cookbook showcasing more than 60 recipes from the city's most beloved mid-morning eateries. Food writer and photographer Rebecca Wellman introduces us to the people and stories behind the capital city's diners, bistros, cafés, coffee shops, bakeries, and more. This stylish, image-rich collection of recipes and stories is the ultimate guide to Canada's brunch capital and offers yet another delicious way to celebrate the city's thriving food culture.
BC Bestseller for 6 consecutive weeks
No. 8
The Spitfire Luck of Skeets Ogilvie: From the Battle of Britain to the Great Escape
by Keith C. Oglivie
Heritage House Publishers | 9781772032116
Rejected by the Royal Canadian Air Force in the summer of 1939, Keith "Skeets" Ogilvie joined the British Royal Air Force instead. A week later he was on a boat to England and a future he could not have imagined.
The Spitfire Luck of Skeets Ogilvie is the story of an ordinary man who beat incredible odds on the frontlines, and the remarkable woman with whom he was reunited at the end of the War.
BC Bestseller for 4 consecutive weeks
No. 9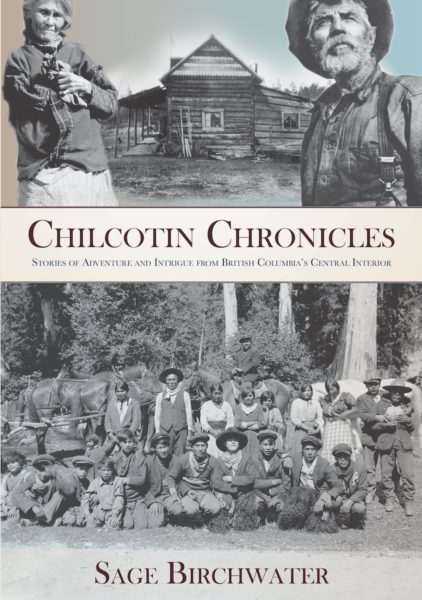 Chilcotin Chronicles: Stories of Adventure and Intrigue from British Columbia's Central Interior
by Sage Birchwater
Caitlin Press | 9781987915334
Set in the wild and untamed country of central British Columbia's Chilcotin Plateau, Chilcotin Chronicles is about men and women caught in its interface of cultures and changing landscape. Indigenous inhabitants and white newcomers brought together by the fur brigades, then later by the gold rush, forged a path together that was uncharted and unpredictable. Birchwater discovers that their stories, seemingly disconnected, are intrinsically linked together to create a human ecosystem with very deep roots. The lives of these early inhabitants give substance to the landscape and meaning to the people who live there today.
BC Bestseller for 3 consecutive weeks
No. 10
The World's Most Travelled Man: A Twenty-Three-Year Odyssey to and through Every Country on the Planet
by Mike Spencer Bown
Douglas & McIntyre | 9781771621427
In 1990, Calgary-born Mike Spencer Bown packed a backpack and began a journey that would eventually take him through each of the world's 195 countries and span more than two decades. From relaxing on the white sand beaches of Bali to waiting out blizzards in Tibetan caves, Bown trekked from country to country, driven by a desire to see the world in the most authentic way possible, not to just collect stamps on his passport. Eventually, he began to earn international recognition for some of his more unconventional destinations—such as a memorable trip to war-torn Mogadishu. This book is an eye-opening account of the universal human experience as seen from each corner of the changing world.
​
BC Bestseller for 5 consecutive weeks
No. 11
The White Angel
by John MacLachlan Gray
Douglas & McIntyre | 9781771621465
The White Angel is a work of fiction inspired by the cold case of Janet Smith, who, on July 26, 1924, was found dead in her employer's posh Shaughnessy Heights mansion. A dubious investigation led to the even more dubious conclusion that Smith died by suicide. After a public outcry, the case was re-examined and it was decided that Smith was in fact murdered; but no one was ever convicted, though suspects abounded—from an infatuated Chinese houseboy to a drug-smuggling ring, devil-worshippers from the United States, or perhaps even the Prince of Wales. For Vancouver, the killing created a situation analogous to lifting a large flat rock to expose the creatures hiding underneath.
BC Bestseller for 1 consecutive week
No. 12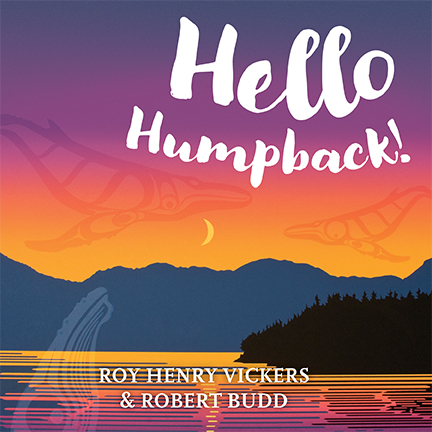 Hello Humpback!
by Roy Henry Vickers & Robert Budd, illustrated by Roy Henry Vickers
Harbour Publishing | 9781550177992
With bright and bold illustrations of the wild and magical West Coast by celebrated artist Roy Henry Vickers, this sturdy board book will delight babies and toddlers as they begin to experience and recognize the sights and sounds of the natural world. Hello Humpback!, a "first words" book, introduces iconic West Coast animals, from hungry sea otters to hopping orcas, and is sure to become an instant classic.
BC Bestseller for 44 consecutive weeks
No. 13
Views of the Salish Sea: One Hundred and Fifty Years of Change around the Strait of Georgia
by Howard Macdonald Stewart
Harbour Publishing | 9781550178036
It is not mere coincidence that two-thirds of the population of British Columbia occupies lands bordering its great inland sea, the Strait of Georgia, and connected waterways collectively known as the North Salish Sea. Averaging forty kilometres in width and stretching some three hundred kilometres from Vancouver and Victoria in the south to Powell River and Campbell River in the north, the North Salish Sea has long sheltered a bounty of habitable lands and rich maritime resources ideal for human settlement. While the region's intricate shoreline of peninsulas, promontories, estuaries and plains has been occupied by human communities for millennia, the last century and a half has been an unprecedented age of rapid colonization, industrialization and globalization. Many books have been written about individual communities and industries around the great waterway, but none have examined the region as a geographical unit with its own dynamic systems, which can best be understood as an interrelated whole.
BC Bestseller for 2 consecutive weeks
No. 14
The Haunting of Vancouver Island: Supernatural Encounters with the Other Side
by Shanon Sinn
TouchWood Editions | 9781771512435
Vancouver Island is known worldwide for its arresting natural beauty, but those who live here know that it is also imbued with a palpable supernatural energy. Researcher Shanon Sinn found his curiosity piqued by stories of mysterious sightings on the island—ghosts, sasquatches, sea serpents—but he was disappointed in the sensational and sometimes disrespectful way they were being retold or revised. Acting on his desire to transform these stories from unsubstantiated gossip to thoroughly researched accounts, Sinn uncovered fascinating details, identified historical inconsistencies, and now retells these encounters as accurately as possible.
BC Bestseller for 10 consecutive weeks
No. 15
Island of the Blue Foxes: Disaster and Triumph on Bering's Great Voyage to Alaska
by Stephen R. Bown
Douglas & McIntyre | 9781771621618
The story of the Great Northern Expedition, an epic tale of shipwreck and survival from the Age of Sail. The Great Northern Expedition was the most ambitious and well-financed scientific expedition in history. Lasting nearly ten years and spanning three continents, its geographical, cartographical and natural history accomplishments are on par with James Cook's famous voyages, the scientific circumnavigations of Alessandro Malaspina and Louis Antoine de Bougainville, and Lewis and Clark's cross-continental trek. But the voyage was plagued by ill fortune. Island of the Blue Foxes is an incredible true-life adventure story, a story of personal and cultural animosities, unimaginable Gothic horrors and ingenuity in the face of adversity.
BC Bestseller for 1 consecutive week
Subscribe to the BC Bestseller list