Mapping My Way Home: A Gitxsan History by Neil J. Sterritt won the  BC Book Prize's Roderick Haig-Brown Regional Prize in 2017. The book traces the journeys of the European explorers and adventurers who came to take advantage of the opportunities that converged at the junction of the Skeena and Bulkley rivers. Neil Sterritt, a Gitxsan leader, also shares the stories of his people, stories both ancient and recent, to illustrate their resilience when faced with the challenges the newcomers brought. The following excerpt is from the introduction to the book.
My parents and grandparents, aunts and uncles told exciting stories about growing up in northwest British Columbia. They laughed and joked, gossiped and teased. They spoke of amusing, larger than life people and romantic places along winding forest trails, places like Kisgegas, Kuldo, Bear Lake, Manson Creek, Telegraph Creek, the Omineca and Cassiar gold fields and the Yukon. Their stories gave texture and meaning to my mental maps. I longed to travel their trails, to experience those places for myself. Later in my life I did that, and went far beyond the familiar paths of my ancestors. Eventually I realized that maps, both imagined and real, can unite people and define their connection to the land, family, culture, language, history—to home.
But that would come later. I was born and raised in Hazelton in the 1940s. My father was born in a Gitxsan village, Glen Vowell, and my mother was born in a Newfoundland outport village, Little Bay Islands. Whenever we visited my Gitxsan grandparents, the adults spoke Gitxsan unless my mother was present and then, out of respect, they switched to English.
Hazelton was the white community, and Gitanmaax—the reserve just up the hill from our house—was the Gitxsan community. There were disputes and rivalries between the children of these communities but they were never serious. And when it came to sports and games, we all played together.
Horses and cows wandered the dirt streets and wood plank sidewalks. Because livestock ran free, everyone fenced their yards to protect their gardens. During spring breakup we all played in the melt water that ran down the hill and along Government Street, building dams and making hand-carved boats. We caught (and set free) swallows with simple bolo-like devices as they swooped about looking for nesting material. We played marbles and other children's games along the streets and in the school yard. The only building specifically designated a school was next to our house. It had one teacher who taught about twenty pupils in several lower grades. Empty buildings here and there about town provided makeshift classrooms for those in the higher grades. Barrel stoves were lit each cold morning to heat the schools. Our homes were heated the same way, with the addition of a McClary cook stove in the kitchen and a wood or coal heater in the front room.…
Several springs or wells provided fresh water to those fortunate to have them nearby. The rest of us packed water in buckets from the Skeena River year-round. Rainwater sufficed for laundry and bath water during spring, summer and fall. We, and most others, bathed in a galvanized tub in the kitchen for most of the 1940s. Everyone had an outhouse, some with two-seaters for those who didn't mind the company on a freezing winter day. The United Church-sponsored hospital was built one mile from town in 1903 on land that Chief Gidumgaldo designated for that purpose.
Employment along the Skeena was mainly seasonal, based on trapping, selective logging, farming and, for aboriginal people, the commercial fishery in the Skeena estuary near Prince Rupert. Government services, the hospital, several retail stores, the Silver Standard Mine and Marshall Brothers Trucking provided steady employment for some, including the blacksmith because horses were still the main mode of transportation. At the same time, everyone added to their meager incomes with large gardens and by harvesting domestic and wild berries, salmon and wild game. Potatoes and carrots were stored along with canned or jarred fruit and jams in frost-free cellars dug beneath kitchen floors. In summer, homemade root beer put up in beer bottles was kept cool there too, a treat not to be underestimated and almost equaled by Bud Dawson's ice cream which arrived weekly by train in large insulated canvas tubs.
Many Gitxsan families made a living logging spruce and hemlock trees for lumber and western redcedar trees for telephone poles. The BC Forest Service allocated timber limits to those wishing to log…I recall my grandmother, Kate Sterritt, working at my grandfather Charlie's pole camp. She might fall and peel a twenty-five or thirty-foot cedar tree between lunch and supper. She was as much a driver of their business as my grandfather. She too was an entrepreneur and managed their rental cabins in Hazelton.
One afternoon she came walking down the hill towards us on her way home. She had a four-gallon cedar bent box filled with huckleberries on her back and was followed by two large dogs with packs. She had been away alone for several days picking berries about eight kilometres from town.
Although she had limited writing skills, she knew how to delegate. I recall on two occasions when she needed to convey a message and told me what to say as I printed the letters for her…
In March of 1956, when I was fifteen, I quit school. As with many teenagers, it was obvious to me that I knew far more than my teachers and we weren't getting along. I went to work for my father who had a pole camp along the left bank of the Skeena River north of Hazelton. He put me to work packing boulders from the road he was building with his D4 bulldozer. It took a pretty smart guy to do that kind of work…
That fall my working days ended. I had been hunting mountain goat with several men who worked for my dad and arrived home on a Saturday evening in late September. When I walked into the house my mother said, "You are going back to school," and the next day I found myself on an airplane flying from Terrace to Vancouver. I might have gone back to school in Hazelton but was having a major dispute with one of the teachers there. Also, my mother knew I would be well cared for in Vancouver by relatives. Thus began my annual treks between Hazelton and Vancouver…I spent the next four years there. I returned in the summers to work with my dad but didn't call Hazelton home again until my wife and I moved back in 1973…
I graduated in 1960 and went to the University of British Columbia for the next two years. In the spring of 1962 I landed a summer job as a field assistant with Kennco Explorations at their Galore Creek property in northwestern BC. Company geologists taught me about rocks and minerals and I also learned that topographic maps, air photos, compasses and notebooks are basic geologist's tools, used to plan field trips, and record key features and locations along the way. Later, in 1963, while still working with Kennco, I began to record information in the field that was transferred to working maps…
But back in 1962, after spending the summer prospecting in the Stikine Mountains near Telegraph Creek in northwestern BC, I visited my grandfather in Hazelton. He was seated at the kitchen table in the house he shared with his third wife, Jessie Lumm. When I told him I'd been to Telegraph Creek, he said he'd been there too, a long time ago:
I was with some men driving cattle from the Chilcotin to the Yukon. It was a tough trip. The weather was bad. It rained most of that summer. Feed was scarce because other men were driving herds north too. Some of the horses died, and others were weak and lame and we abandoned them. We had to put packs on some of the cattle. I quit at Telegraph Creek and took a boat down the Stikine River to Wrangell, then to Port Essington and home to Hazelton.
My grandfather was in his mid-teens at the time.
The first lengthy journey I recall making was with my Uncle Walter, Dad's brother, in 1952. He was driving to Chilliwack to get an engine for the sawmill he was building near Hazelton. The drive took more than four days over gravel and dirt roads in my grandfather's one-ton Chevrolet truck. By contrast, the trips my grandparents took by foot, saddle horse, canoe and sternwheeler took weeks and sometimes months. And through my own journeys I have come to appreciate that the distances my grandparents traveled during their lifetimes—both geographically and culturally—began in the mists of time when our aboriginal ancestors first settled the Skeena Valley.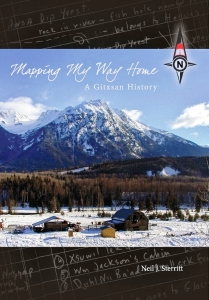 Excerpts from the introduction to Mapping My Way Home: A Gitxsan History by Neil J. Sterritt (Creekstone Press, 2016).
Neil Sterritt was born and raised in Hazelton, British Columbia and later lived with his wife and sons for many years at Temlaham Ranch, the site of a Gitxsan ancestral village. He is a member of the House of Gitluudaahlxw and was president of the Gitxsan-Wet'suwet'en Tribal Council from 1981 to 1987, key years in the lead up to the precedent-setting aboriginal rights case known as Delgamuukw v. BC. He writes extensively on aboriginal rights and governance and serves as a consultant to many aboriginal organizations around the world. He co-authored the book, Tribal Boundaries in the Nass Watershed (UBC Press 1999). In 2008 he received an honorary doctorate from the University of Toronto in recognition of his "lifetime contributions to the understanding and expression of aboriginal citizenship in Canada". Neil also served as Director of Self-government, Assembly of First Nations in Ottawa from 1988 to 1991. He currently lives with his wife, Barbara, near Williams Lake, BC.